In May 2019, Foward successfully passed the on-site audit certification of "TFS Sustainability Supplier".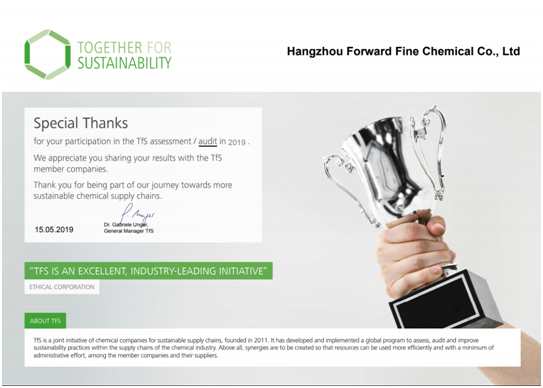 What is the "Together for Sustainability (TFS)" initiative?
The initiative was developed in 2011 by the chief procurement officers of six multinational companies: BASF, Bayer, Evonik Industries, Henkel Group, LANXESS and Solvay. All member companies strive to achieve the Sustainable Development Goals and support the UN Global Compact and Responsible Care principles. This means that companies not only care about themselves, but also the environment, society and good management practices of suppliers in the operation process. The initiative aims to increase the transparency of the sustainability standards in the chemical industry supply chain and to harmonize the standards.
In recent years, with the continuous improvement of the core competitiveness of the brand, Foward has become a supplier of many well-known chemical companies around the world, accelerating the strategic step of integrating into the development of global sustainable development suppliers (TFS), and going global for the Foward brand. Laid a solid foundation.
In May of this year, in accordance with the requirements of relevant customers, SGS audited and certified companies conducted on-site audit and certification of the five aspects of the organization, environmental safety, labor human rights, business integrity and anti-corruption, and sustainable supply procurement. , forensics, and inspection of the company's TFS sustainable development supplier system related production records, ledgers, the preparation of safety facilities, the establishment of safety systems, occupational health protection of employees, corporate human rights protection, business integrity and anti-corruption construction, etc. Yuan Jiang, head of the audit expert group, announced at the final meeting of the audit that Foward successfully passed the on-site audit of the TFS Sustainability Supplier. After the rectification of the problem was discovered, the TFS certification audit report was issued to the Sustainability Alliance headquarters. Ensure that the company has obtained the TFS Sustainability Supplier Certification.
This on-site audit and certification is of great significance to Foward's strategy of joining the Global Sustainable Suppliers (TFS) development. It marks the recognition of Foward products by well-known companies of the Global Chemical Alliance and is the core of the Foward brand. The concentrated expression of competitiveness has earned Foward the right to speak in the internationalized global industry competition.